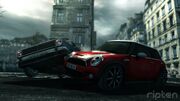 Overview
The car, designed by Frank Stephenson, strongly recalls the original Mini, which was manufactured by the British Motor Corporation and its successors from 1959 to 2000. The name of the brand, MINI, is all-capitalized to distinguish it from its predecessor. Originally developed by Rover Group and to be sold under the Rover brand and made at the Longbridge plant, the Mini project was retained by BMW when the latter divested itself of Rover in 2000. The MINI is assembled in Cowley, Oxford, United Kingdom, in what was historically the Pressed Steel Company body plant, now known as Plant Oxford.
The 2001 to 2006 model years included four hatchback models: the basic "MINI One", the diesel-engined "MINI One/D", the sportier "MINI Cooper" and the supercharged "MINI Cooper S". In 2005 a convertible roof option was added. In November 2006 a re-engineered version of the MINI was released which is unofficially known as the "Mk II MINI". The Mk II is only available as a hard-top in the 2007 model year.
The MINI was designed and engineered to replace the long running Rover 100 and the larger Rover 200, both deemed unsuitable for the modern world automobile market. The MINI was supposed to replace low-end models of the 200 and high-end models of the 100 with a Rover 35 replacing high end 200s and low end 400s. After the divestment of MG Rover, the Mini was instead marketed as a small yet desirable city car rather than a mainstream replacement of the 100 and 200.
Appearances
The Mini Cooper appeared in the first Bourne film, as Marie's car. It is also seen in The Bourne Conspiracy, featured as a drivable vehicle.