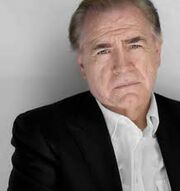 Brian Cox is a Scottish actor who portrayed Ward Abbott in The Bourne Identity and The Bourne Supremacy.
Biography
He attended LAMDA where he studied acting and began working the the theatre. He later became involved in film work in the 80s and 90s, and became a well known actor very quickly. In 2002, he appeared in Adaptation and The Ring alongside Chris Cooper, and in 2011, he starred in the BBC production The Sinking of the Laconia, alongside Franka Potente.
Selected filmograpy
Film appearances
Rise of the Planet of the Apes (2011)
Red (2008)
Zodiac (2007)
Red Eye (2005)
The Bourne Supremacy (2004)
Troy (2004)
X2: X-Men United (2003)
Adaptation (2002)
The Ring (2002)
The Bourne Identity (2002)
Rushmore (1998)
Braveheart (1995)
Manhunter (1986)
Television appearances
Doctor Who (2010)
Deadwood (2006)
Nuremberg (2000)
Red Dwarf (1997)
Sharpe (1993)
King Lear (1983)
External links
Community content is available under
CC-BY-SA
unless otherwise noted.