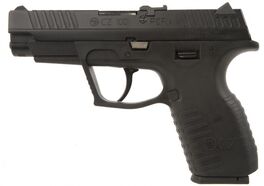 The CZ 100 was introduced in 1995 by Česká Zbrojovka (Uherský Brod, Czech Republic), the first of CZs weapons to use synthetic materials.
Overview
The CZ 100 has a sister model, CZ 101, which has a smaller magazine capacity (7 rounds 9mm or 6 rounds .40).
The "CZ100" was reintroduced in 2000 and called the "CZ100B". It is identical in most ways, except for adjustable sights, trigger and firing mechanism work, and cleaner machining of the main slide and exterior steel.
Appearances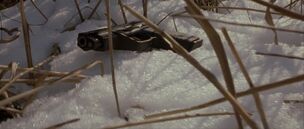 The Professor draws a CZ 100 from his carry bag when he is unable to locate Jason Bourne while in the fields behind Marie Kreutz's brother's home, in the French countryside. This is a continuity error, as originally the gun on the Professor's bag is a Walther P5, which is later used by Bourne.