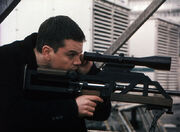 The K&F KS II is a bolt-action, bullpup sniper rifle system used by Jason Bourne to spot Pamela Landy during the events of The Bourne Supremacy.
Overview
The rifle pictured seems to be mashup of a civilian bolt action hunting rifle (a military rifle of any design would not have a shiny chromed bolt), the frame appears to be aluminum flat bolted together (poorly), a harris bipod at the front. Notice in the picture the frame of the rifle appears on only one side, this would make for a flimsy and inaccurate design. The scope Bourne is using is a Zeiss Victory Diavari series. A sniper's scope would have adjustable turrets clearly marked, and adjustable optic, and probably an illuminate reticle.
Appearances
While searching for Tread Stone, Bourne uses the K&F KS II to spot a C.I.A. facility. There he finds Pamela Landy and other C.I.A agents. At the end of the film, Bourne uses it again to spot Pamela while talking to her by a cellphone.