Marie Helena Kreutz is a fictional character who appears in The Bourne Identity as an accomplice to Jason Bourne. Kreutz first appears in The Bourne Identity and last appears in The Bourne Supremacy where she is killed by Kirill, though in The Bourne Ultimatum she appears in flashbacks.
She was portrayed by Franka Potente, and was loosely based on the character of Marie St. Jacques from the novels.
Biography
The Bourne Identity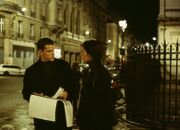 Marie first appears in The Bourne Identity as a visitor in the U.S. Embassy in Zürich, Switzerland, frustrated by the clerk behind the desk. Jason Bourne approaches her after escaping the embassy guards and offers her $10,000 to drive him to Paris. When she denies his offer he then offers $20,000, 10 now and 10 after. Reluctantly obliging, on the trip to Paris she learns about his amnesia and his general frustration because of it. After arriving in Paris, they visit Bourne's apartment where they are attacked by Castel, a Treadstone assassin. After Bourne subdues Castel with a pen, Marie is shocked to find he has wanted photos of both Bourne and herself on his person, taken at the Embassy the day prior.
The Bourne Supremacy
Two years later she and Jason were living peacefully in Goa, India. When Bourne spotted a Russian assassin, he attempted to flee with her. As they drove away, Bourne requests Marie to drive but she ends up being fatally shot by Kirill who mistakenly believed that Bourne was the driver, causing the vehicle to drive into a river. Bourne attempted to save her, but she was already dead. Her body and the vehicle was later found in the river.
The Bourne Ultimatum
She appears in flashbacks.
In this film, Franka Potente is not credited as Marie, so the actors in the flashbacks taken from the previous films are not part of the credit roll.
Community content is available under
CC-BY-SA
unless otherwise noted.