Mattew Paige "Matt" Damon is an American actor and writer. He portrayed Jason Bourne in the Bourne films franchise.
Biography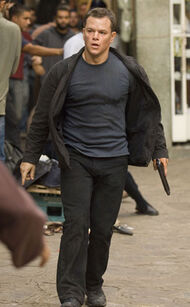 He rose to fame after writing the screenplay to Good Will Hunting with Ben Affleck, and starring in that film. They won the oscar for best original screenplay. He later went on to star in many high grossing Hollywood films. In 2010, he reunited with Bourne Director Paul Greengrass in the film Green Zone.
Selected filmography
Jason Bourne (2016)
Interstellar (2014)
We Bought a Zoo (2011)
True Grit (2010)
Green Zone (2010)
Invictus (2009)
The Bourne Ultimatum (2007)
The Departed (2006)
The Brothers Grimm (2005)
The Bourne Supremacy (2004)
Stuck on You (2003)
The Bourne Identity (2002)
Ocean's Eleven (2001)
Ocean Twelve (2003)
Dogma (1999)
Saving Private Ryan (1998)
Good Will Hunting (1997)
External links
Community content is available under
CC-BY-SA
unless otherwise noted.