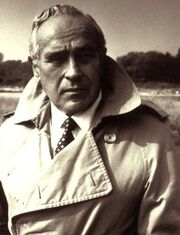 Robert Ludlum
(May 25, 1927 New York City – March 12, 2001 Naples, Florida) was an American author of 25 thriller novels. There are more than 290 million copies of his books in print, and they have been translated into 32 languages. Ludlum also published books under the pseudonyms Jonathan Ryder and Michael Shepherd.
Some of Ludlum's novels have been made into films and mini-series, including The Osterman Weekend, The Holcroft Covenant, The Apocalypse Watch, The Bourne Identity, The Bourne Supremacy and The Bourne Ultimatum. A non-Ludlum book supposedly inspired by his unused notes, Covert One: The Hades Factor, has also been made into a mini-series. The Bourne movies, starring Matt Damon in the title role, have been commercially successful, although the story lines depart significantly from the source material.
Ludlum was educated at The Rectory School then Cheshire Academy and Wesleyan University in Middletown, Connecticut. While at Wesleyan, Ludlum joined the Alpha Delta Phi fraternity. Prior to becoming an author he had been a theatrical actor and producer. His theatrical experience may have contributed to his understanding of the energy, escapism and action that the public wanted in a novel. He once remarked: "I equate suspense and good theater in a very similar way. I think it's all suspense and what-happens-next. From that point of view, yes, I guess, I am theatrical."
Ludlum died in 2001 of a subdural hematoma, reportedly leaving behind several unpublished manuscripts and rough outlines, which continue to be dusted off and published with the help of ghostwriters.
The next Bourne novels were later written by Eric Van Lustbader.
Community content is available under
CC-BY-SA
unless otherwise noted.