The SIG SG 550 is an assault rifle manufactured by Swiss Arms AG (formerly Schweizerische Industrie Gesellschaft, or SIG) of Neuhausen, Switzerland. SG is an abbreviation for Sturmgewehr, or "assault rifle." The rifle is based on the earlier 5.56mm SG 540 and is also known as the Fass 90.
Variants
SIG-552 Commando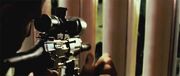 Specifications (1998-present) The SG 552 Commando carbine was introduced in 1998. It has a shorter 226 mm (8.9 in) barrel (with an open, 3-prong flash suppressor) and gas tube, ventilated handguards and a redesigned bolt carrier group that was integrated with the piston rod to form a single moving assembly. The return mechanism has been moved to the rear of the receiver housing and its recoil spring is guided in a way analogous to the AK-47, on a steel guide rod (later models feature a polymer guide rod) resting against the lower receiver's rear surface under tension of the compressed recoil spring. Like the SG 550/551, this model can accept rails and accessories enabling the use of optics. A long barrel version of the SG 552 known as the SG 552 LB incorporates a 346 mm (13.6 in) barrel designed to fire rifle grenades and mount a bayonet.
SG 551
The SG 551 carbine has a shorter 363 mm (14.3 in) barrel, gas tube and piston compared to the SG 550. The handguards were also changed and the bipod removed. The SG 551 cannot be used with a bayonet or to fire rifle grenades. The SG 551 comes in several specialized variants designed for use with security and special forces. Among those variants are: the SG 551-1P police carbine (designed to engage point targets out to 300 m, equipped with a Hensoldt 6x42 BL telescopic sight and detachable cheek riser), the SG 551 SWAT carbine (coated with a corrosion-resistant finish and equipped with an optical sight, for example Trijicon's ACOG 3.5x35; this variant can also accept mission-critical accessories such as a bipod, laser pointer or tactical light) and the SG 551 LB carbine with an extended barrel 454 mm (17.9 in) that enables the use of rifle grenades.
Appearances
The Professor used a sound-suppressed SIG-550 to kill Nykwana Wombosi and to attack Jason Bourne.
Paz used a SIG-552 Commando to spot and kill Simon Ross at the Waterloo Station.
The SG-551 was used as an assault rifle by many of Bourne's enemies.
Paz uses a SIG SG 552 to shoot
Simon Ross
at the
Waterloo Station
, this scene is the same from
The Bourne Ultimatum
.