Variants
Walther P5 Compact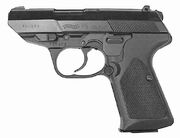 This is the shorter and lighter version of the fullsize P5. Approx 3,000 examples of this pistol were adopted in the 1980s by the British Army as Pistol L102A1 (NATO Stock Number 1005-99-978-4952) for issue to the Royal Irish Regiment (Home Service) as a Personal Protection Weapon. A small number may have been issued to 14 Intelligence Company, an all-arms unit active in Northern Ireland. Some surplus examples of this pistol have surfaced in the US collectors' market and are sometimes mistakenly described as "SAS Pistols."
Specifications
(1977 - ?)
Type: Semi-automatic pistol
Caliber(s): 9x19mm Parabellum, 7.65x22mm Parabellum, 9x21mm IMI
Weight: 1.75 lb (0.795 kg)
Length: 7.1 in (180 mm)
Barrel length: 3.5 in (90 mm)
Capacity: 8
Appearances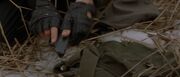 The Professor is shot by Bourne. He takes a Walther P5 from his bag to shoot Bourne, however Bourne finishes him before he even gets the chance to use it. Bourne then takes the gun for him.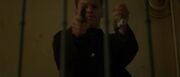 Bourne uses the Walther P5 at the Treadstone safehouse in Paris. After disarming an agent armed with a suppressed Taurus PT945, Bourne carries the Walther P5 and the PT945 side-by-side.
Gallery
The Bourne Identity
Community content is available under
CC-BY-SA
unless otherwise noted.